<!-ShowPage(index.html)->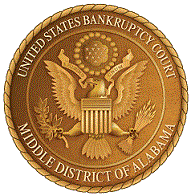 Welcome to the U.S. Bankruptcy Court for the Middle District of Alabama
Login
<!-ShowPage(OperationNotice.htm)->
---
RESTRICTED ACCESS
Notice: This is a Restricted Web Site for Official Court Business only. Unauthorized entry is prohibited and subject to prosecution under Title 18 of the U.S. Code. All activities and access attempts are logged.
REDACTION OF PERSONAL DATA IDENTIFIERS
Federal Rules of Bankruptcy Procedure (Fed. R. Bankr. P.), Rule 9037 requires that certain personal data identifiers not be included in court filings. Social security numbers, financial account numbers, names of minor children, and dates of birth are to be redacted by the attorney or party filing the document. The Clerk of Court is not required to review documents filed with the court for compliance with this rule. The responsibility to redact filings rests with counsel and the party or nonparty making the filing.
---
6January2014
Court Information